PotluckExpo.com Affiliate Program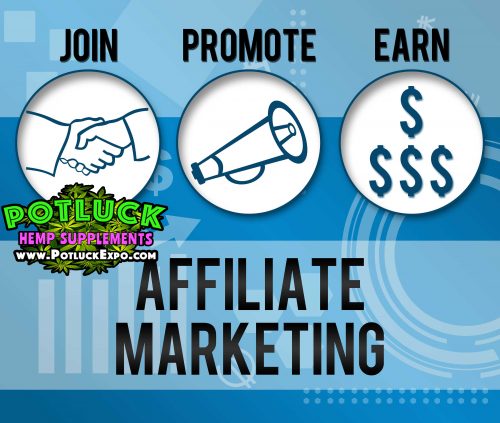 Get 15% for each referral sale 
Get your product links below now to start sharing and earning…share by e-mail, social media, websites, etc:
Click on the 'Creatives' tab below

Choose a creative and shorten the links by cutting and pasting them here


Copy your new shortened links from http://tinyurl.com/ for each product

Share your links online with family, friends and the world *we can track each sale from your links*
Affiliate Member Benefits:
Earn 15+% commission per sale from your shared affiliate links

Unlimited earning potential

Help your friends, family and social networks discover the potential of our Hemp health supplements

Work from home or anywhere with an internet connection

Commission paid out monthly by check after $100 in commission is earned

No need to stock inventory, simply share your unique affiliate product links to our store

Your links are valid for 30 days after a user clicks on it to ensure you get 15% of each sale
FAQ's
How does your Hemp products affiliate program work?
Once you are approved for the affiliate program, you will have access to PotluckExpo product links (ie. https://potluckexpo.com/shop) that are unique to you. Meaning, whenever one of your links is clicked on, we will know to award you credit for the potential sale. Therefore when the links are clicked on and purchases made by your family, friends, social media followers and where ever you share your links, we will be able to pay you for the sale accordingly, 20-25% of the sale.
What is the purchase time-frame my links have for me to get credit for the sale (aka. cookie time frame)?
Once your link is clicked on, the customer has 90 days to make a purchase on our site from the time they clicked on the link in order for you to get commission for the sale.
How can I generate income with this affiliate program?
It is simple:  register for the program, after being approved, retrieve the your unique product links to our shop's products by logging into your account and sharing the links with family, friends, social media, different online communities and more.  There are several free and effective strategies to online marketing.
Do your products have a refund policy?
Yes, we offer customers a full refund minus shipping after 30 days if they are not 100% satisfied with our products.  Affiliates will not get commission for sales that are refunded. If commission has already been paid for a refunded sale we will debit your next payout for the commission of the refunded sale.
Do I need to purchase anything?
No, you do not need to spend anything or buy any products at all. You simply share links to our web stores products.