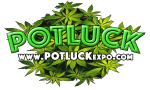 PotluckExpo.com strives to continually bring our customers effective products that they want to share with others.  Through constant research, development and customer interaction we have been able to dial in our products to ensure they have the desired results our customers want and need.  It is the goal of www.PotluckExpo.com to assist as many people as possible with our industrial Hemp Cannabinoid products in the USA and worldwide, both safely and legally.
PotluckExpo.com recognizes that there has been an uphill understanding regarding Cannabis and Hemp that is finally leveling off as the internet allows for people to communicate their positive experiences to one another in an exponential way.  The fact is that most life forms on Earth (Mammals, Reptiles, Fish, Birds) have what is called an "Endocannabinoid System".  Research suggests that this system is comprised of  receptors CB1 in CB2 throughout the life form in all major organs from skin to brain.  These receptors yearn for Cannabinoids such as CBD, CBG and THC to bind to them.  This research has not historically been taught to students or even doctors at school.  In theory, several diseases and discomforts we face may be due to depriving our Endocannabinoid system of Cannabinoids.  We will continue to bring our customers a top-notch line-up of beneficial Hemp wellness nutrients.  Be sure to join our mailing list at the top of the page so we can keep you informed of all our new products and sales!
"From the start, we realized that the best way to legally provide and benefit the largest amount of people was with non-psychoactive cannabinoid products"
This article may contain certain forward-looking statements and information, as defined within the meaning of Section 27A of the Securities Act of 1933 and Section 21E of the Securities Exchange Act of 1934, and is subject to the Safe Harbor created by those sections. This material contains statements about expected future events and/or financial results that are forward-looking in nature and subject to risks and uncertainties. Such forward-looking statements by definition involve risks, uncertainties.