Frequently Asked Questions About Pain Patches
Frequently Asked Questions About Pain Patches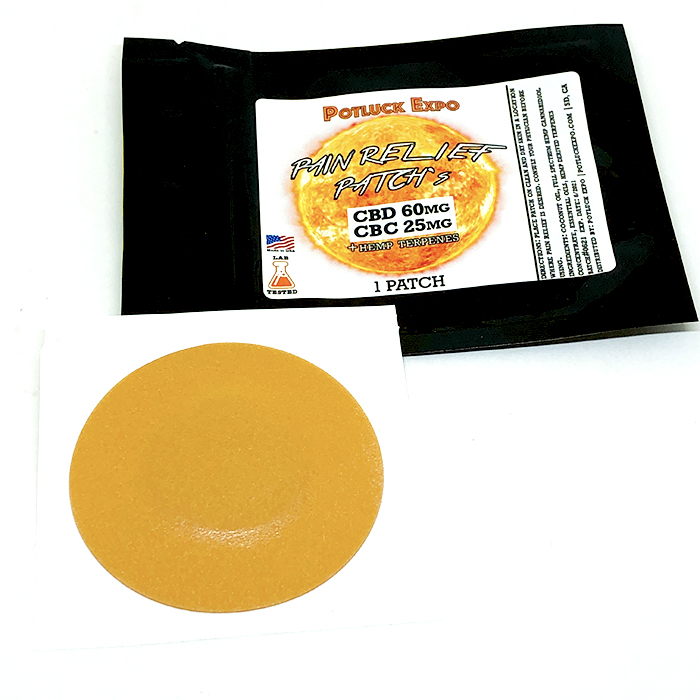 How long do CBD pain relief skin patches for arthritis last?
Potluck Expo pain relief patches work well at alleviating unbearable Arthritis pain for 48-72 hours.  Pain relief patches can be cut in half for smaller areas or for multiple uses. By applying subtle pressure while the patch is applies to the painful area of the skin, one may experience a small burst in pain relief of nerve pain, muscle pain or arthritis.
Do pain patches for arthritis work?
Potluck Expo pain patches have been reported to assist arthritis patients tremendously with their pain relief and joint pains.  Arthritis pain in the back is better relieved with an oral tincture or our topical CBD Spray or Topical CBD Balm.
What are transdermal patches?
Transdermal patches are a skin adhesive material that combines a fluid-filled reservoir inside the adhesive material.
How do I use a transdermal skin patch?
To use a transdermal skin patch: First, make sure that before applying the transdermal patch, your skin is clean and dry where you will be applying the patch. Second, remove the adhesive backing to expose the "stickiness" of the patch. Lay the patch, sticky-side-up on your hand and slowly from top to bottom apply the patch with firm pressure in the area where you would like pain relief or over a veinous region such as the wrists, ankle or arteries for absorption of certain transdermal patch ingredients.
Do you sleep with the transdermal skin patch on?
Yes, you can sleep with the pain relief patch or sleep patches overnight for 72+ hours.
If you would like to check out Potluck Expo CBD Pain Patches or any other topical CBD products you can visit this page to buy
Where is the best place to put a CBD pain patch on the body?
The best place to put a pain patch on the body depends on the type of patch and the location of your pain. Pain patches can be applied to various areas of the body, including the back, neck, shoulders, knees, and ankles.
Transdermal patches work best when applied to clean, dry skin that is free from cuts, bruises, or irritation. They should be placed on an area of the body with little to no hair and should not be applied to areas with broken skin or wounds.
Consider the location of the pain: The location of the pain will determine the best area to apply the patch. For example, if you have knee pain, you can apply the patch on the knee or around it.
Avoid sensitive areas: Avoid applying patches to sensitive areas like the face, neck, or genitals. These areas have thin skin and may be more prone to side effects.
Rotate the application site: It's important to rotate the application site to prevent skin irritation or damage. For example, if you applied a patch to your left shoulder, apply the next patch to your right shoulder.
Follow instructions carefully: Make sure you read and follow the instructions provided with the patch carefully. Some patches need to be applied for a specific amount of time, while others may need to be removed after a certain period.
Are Potluck Expo skin patches water-proof? Will sweat or water affect the strength or effectiveness of the CBD topical skin patch for pain?
No. Sweat and water will not affect the ability of Potluck Expo CBD patches from relieving muscle pain, back pain or nerve pain during workouts or when relaxing or sleeping. Potluck Expo pain relief patches are not only water-proof and water-repellant pain patches, they also last for over 72 hours!